GaitScan™ is state of the art computer hardware and software that helps your health care practitioner assess and analyze your feet. This analysis combined with your practitioners' experience and knowledge detects abnormal foot function which may be affecting your feet or other parts of your body.
Why is TOG GaitScan so important?
At ModPod we use Dartfish  in all our clinics.  Dartfish is a video based digital software that aids us in diagnosis of conditions and enhances our treatment plans.
This is too difficult for even the most experienced practitioner.
The GaitScan™ system records your tinning sequences during gait as you walk or run across the pressure plate. This enables your practitioner to have a clear picture of your foot mechanics and determine whether you would benefit from wearing custom made foot orthotics.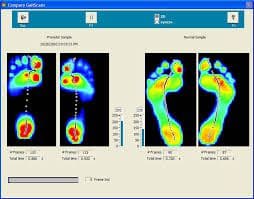 Scans the Foot – As you walk across the pressure plate, thousands of tiny sensors capture the distribution of pressure of your foot over time.
Maps Foot Pressure
From your step, the computer displays 2D and 3D visual representations of the pressure under your foot. You can see where you have too much or too little pressure.
Prints a Report
The information is then summarized in a report that can be printed for you and your health care practitioner to see. The report findings will help your practitioner evaluate your foot function and determine if the pain you are experiencing is related to faulty foot function.

We will call you within 3 business hrs
Only valid to New Patients to ModPod
Not to be used in conjunction with any other offer
Not to be used in conjunction with EPC programme