Orthotic thongs, also known as orthotic flip-flops or sandals, are specialised footwear designed to provide support, cushioning, and stability to the feet. They are a popular choice for warm weather and outdoor activities, as they offer the benefits of orthotic support in a lightweight and breathable design. In this article, we will explore the benefits of orthotic thongs, the different types available, and how to choose the right type for your needs.
Benefits of Orthotic Thongs
Orthotic thongs offer many benefits for those suffering from foot conditions or pain. Here are some of the most significant benefits:
Arch Support
Orthotic thongs provide arch support to the foot, which is essential for maintaining proper foot function and alignment. Arch support can help to alleviate pain associated with conditions such as plantar fasciitis and flat feet, as well as reduce the risk of further damage to the feet.
Cushioning
Orthotic thongs provide cushioning to the foot, which can help to reduce the impact of walking and provide relief for sore feet. This can be especially beneficial for those who spend a lot of time on their feet, such as athletes or people who work on their feet all day.
Stability
Orthotic thongs provide stability to the foot, which can help to improve balance and prevent falls. This is especially important for older adults, who may be at higher risk of falls and injuries.
Breathability
Orthotic thongs are designed to be lightweight and breathable, which can help to keep the feet cool and dry in warm weather. This can help to reduce the risk of foot odor and infections, as well as provide a comfortable wearing experience.
Types
Orthotic thongs come in a variety of types, materials, and designs, each with its own unique benefits. Here are some of the most common types of orthotic thongs:
Leather Thongs
Leather thongs are a popular choice for those looking for a more traditional and durable option. Leather thongs can provide excellent support and cushioning to the feet, as well as a stylish and versatile design.
Synthetic Thongs
Synthetic thongs are a lightweight and breathable option that can provide excellent support and cushioning to the feet. Synthetic materials such as EVA foam and rubber can provide a comfortable and durable design, ideal for active lifestyles.
Custom-Made Thongs
Custom-made orthotic thongs are designed to meet the specific needs of each individual wearer. These thongs are made to order based on a person's foot size and shape, as well as their specific foot condition or pain. Custom-made orthotic thongs can provide the highest level of support and cushioning, tailored to the unique needs of the wearer.
Choosing the Right Thongs
When selecting orthotic thongs, it is important to choose the right type for your specific needs. Here are some factors to consider when selecting orthotic thongs:
Foot Condition: Different types of orthotic thongs are designed to address specific foot conditions. It is important to identify your specific foot condition and select the appropriate thong to address it.
Arch Type: The shape and height of your foot arch can affect the type of thong that will be most beneficial for you. High arches may require a different type of support than flat feet, for example.
Material: Orthotic thongs can be made from a range of materials, including leather, synthetic materials, and rubber. Consider which material will provide the best level of comfort and support for your feet.
Fit: Proper fit is crucial for the effectiveness of orthotic thongs. It is important to select the right size and shape to ensure the thong fits comfortably your foot.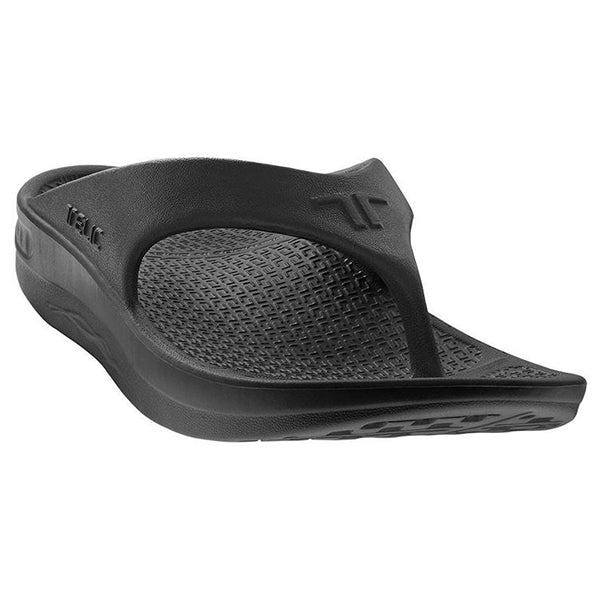 ModPod is a stockist of Telic Thongs
Made from our exclusive Novalon material, this style supports the arches of your feet through our anatomically correct footbed and custom deep heel cup. The design offers an even weight distribution under the foot and reacts to your body temperature to give your feet a hug as they conform perfectly to your personal shape. The ability of the thong to adapt and mould to any foot-type is what makes Telic so unique, and gives you that feeling of floating above the ground.

Award-winning comfort
Pillow-Soft
Supportive
Lightweight & Waterproof
Doctor Recommended
Come into one of our clinics to purchase
Click here for more information on Custom Orthotics